During different parts of the day, if you walk in to my studio, I may look dressed for the apocalypse. You'll see me wearing a gas mask, and then you will quickly notice the pungent smell of a chemical agent that you're not quite sure about. If your still there after I look up I will come over to the open door, lift up my mask, and let you know that I am not creating a biological weapon for the government, that instead I am using a certain glue to bond other material into my artwork.
As an artist my work is somewhere between painting and sculpture. Sometimes I will just paint, but mostly I love using mixed media. Working with various materials allows for more possibilities and play. Something that is fun is going to the salvage yard and searching for interesting things. One of the signature items I put in my work was found on a trip to the junkyard. I almost didn't see it as it was buried under a half inch of water, mud, and rusted metal. I tend to be on the watch for new and unusual materials.
Using mixed media takes a willingness to risk a little more. You have more elements that you are bringing together. Sometimes the combinations don't work; yet I have found something in the process will be illuminated for further consideration, and may end up in future work. Whether it's metal, sand, glass or other media, for me this becomes a way of expressing emotion that includes a tactile experience.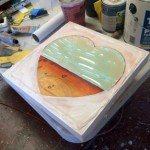 Making art is a way of sharing yourself, whether consciously or unconsciously I believe the work represents who you are being at that moment in time. Working with mixed media adds complexity. I enjoy adding layers and creating depth within the work. Like our lives my work is multifaceted, the past is covered up, yet if you look closely you will see places of what was once there. There are hidden gems that may be partially revealed. Like us we may cover up what is unique and beautiful, and only reveal that at certain times. This metaphor works beautifully regarding the heart.
I am opening up my studio the day after Valentine's Day, the weekend of Feb. 15 & 16. Sat-Sun 11-4 each day. Please put it on your calendar to come visit me, have a glass of wine, and see my latest mixed media works, which include images about the heart.
PARO Wines will be providing the wine. Also meet the winemaker, Patrick Murray on Sunday, Feb. 16th
Before you go, make sure to leave any comments on my BLOG page. I always enjoy hearing from you!