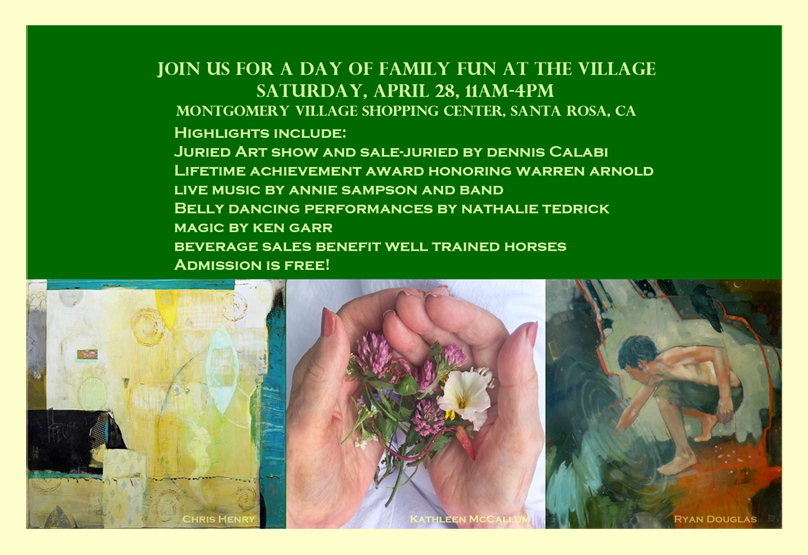 Day on the Green at the Village 
April 28, 11:00am-4:00pm.
Planet Earth is our home and it makes sense that we respect and cherish it! So let's celebrate Earth at the annual Day on the Green at the Village happening April 28th at Montgomery Village Shopping Center in Santa Rosa.  This free family-friendly festival features displays from 40 local artisans, environmental, animal nonprofits and green organizations.  The festival is a benefit for Well Trained Horses, a nonprofit dedicated to rescuing, rehabilitating, and re-homing horses. Since our recent fire, they have adopted several more horses.  They are thrilled to be on hand to sell beverages, baked goods and offer hands on horse crafts to decorate to help their cause and horse funds. 
Festivalgoers can dance to Mother Earth with the music of Annie Sampson and her band. Annie has recorded and performed with greats like Elvin Bishop, Taj Mahal, Eddie Money, Bonnie Raitt, and Sammy Hagar just to name a few. Annie and her band take the stage at 11:30 am-4pm and will undoubtedly leave the crowd yelling for more. 
This year's Juried Art Show features local artisans displaying and selling their creations. Gallery Owner Dennis Calabi is jurying the show.  This year's Lifetime Art Achievement Award will honor Sonoma County Artist Warren Arnold and his 50 plus year career as an Artist, Environmental Teacher and Advocate. 
Participating Artist Chris Henry will be sharing some very recent work after losing 30 years of artwork in the Santa Rosa fire, His new abstract expressionistic painting "Relocating One's Self tells his story of resilience and moving forward. 
International Belly Dancer Nathalie Tedrick will delight the crowd with Belly Dancing performances and Ken Garr will dazzle guests with his Magic throughout the festival. Caricature Artist Marc Schmid will have you laughing with his funny drawing and also share his Fine Art style as well. And for our "kids of all ages" our balloon twister will elevate you with a cheery gift and tropical birds will be swinging and swaying all day!
For our friends participating in the Human Race that Saturday morning, please note that Gus's Café is celebrating you too with discounted Breakfast Burritos for 2018 runners. Stop in and enjoy a great breakfast and take in the Day on the Green at the Village. It's a win-win day all the way around.  Get off the shuttle at Montgomery Village after the race and make your way over to Village Court where breakfast is served at starting 10 am. Runners can purchase a discounted $5 Breakfast Burrito by simply showing your runner's number. 
The Day on the Green Festival is located at Hwy 12-Farmers Lane at Sonoma Ave. in Santa Rosa.