With New Years approaching quickly, I find myself to be a bit more introspective, taking stock of what came before, and starting to think about the coming year. When looking back at past work, usually I'll make an assessment. Something like, I'm glad for the progress I've made or "where can I quickly burn this"? My tendency is to be a little hard on myself. Past work can remind me of a time when I started doing something different that lead to a new style of painting. Whether I consider the work to be good or not, it is always a marker for some period in my past.
Something meaningful is looking at other art in my home. In the living room there is a framed painting of a plant done by my mother. She did it at my studio a couple of years before she passed. Every time I see it I think of her.
Recently my wife's parents handed down a framed print of Gainsborough's "The Blue Boy". The image hangs in my office now. It reminds me of my childhood, specifically being in 4th grade homeroom. My teacher had prints of many of the masters hanging all around the classroom. "The Blue Boy" was above the doorway. I still have a clear memory of staring at the work, and being in awe of it.
Regarding the year, there are many things to be grateful for. Being able to go to my studio and paint, and living in beautiful Northern California are among these blessings. Most of my gratitude goes out to the people in my life, for they are what makes it all worthwhile.
Coming soon, look for my new workshop schedule for 2015.
Happy holidays !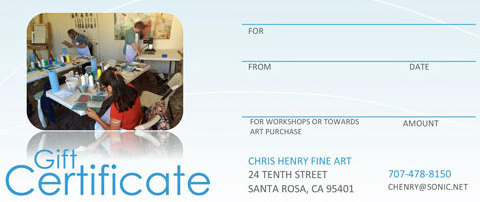 Gift certificates available for art workshops in my studio. Please reply here for more information and to purchase.