I can't tell you what not to do on Thanksgiving, other than the usual recommendations. Don't overeat, and don't fight with your relatives, blah, blah, blah. Hell, who I am to say? History shows I'll most likely overeat. Forget it on the what not to do, instead I will share here what I will be doing. I'll be giving thanks for several things in my life. First on that list would be of course the people. Without them life would be really uninteresting, and in fact quite lonely. I'd write this silly blog and no one would read it (at this point you might wish I was lonely). Next on this list would be giving thanks for the fact I get to paint and make stuff for a living. Ok that's it. I'm done with my list. If you talk to my wife, let her know I included both the cats on this list.
Coming up
You're invited to an opening reception at The Passdoor on Saturday, November 28, 5-7pm. I'll be showing new work with two other wonderful artists, Joy Stocksdale, and Wayne Berger. Come by and check out the art. Live harmonic music will provided by Judith Lerner. The Passdoor is located at the Barlow – 6780 McKinley St #150, Sebastopol, CA.  (707)634-0015
Art Workshops
I apologize for the short notice, but due to popular demand I have scheduled one last workshop for this year on Sunday, December 6th, 1-4:30pm. Cost is $75. There are still a few spaces available. If interested get back to me asap by sending an email to chenry@sonic.net. Continue reading for more information about this workshop.
Introductory Mixed Media Workshop – Sunday, December 6th
This fun, concentrated workshop will have you exploring and practicing ideas and techniques used in creating mixed media abstract art. I will be sharing methods to approach composition, color and texture, while discussing intuition, and letting go. All paint and materials are provided. You may bring any water-soluble paints you like to work with, but not needed.
All skill levels welcomed-No artistic experience necessary. All that is needed is a positive attitude and a willingness to play.
Hours: 1 – 4:30 pm
Cost for this workshop – 75.00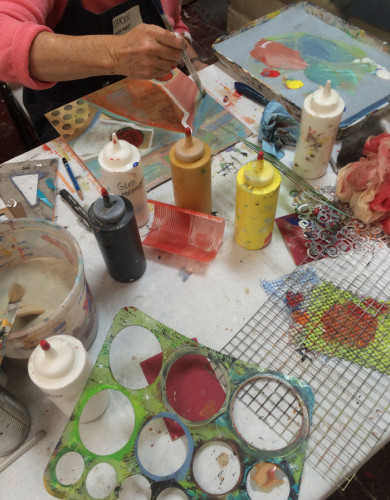 In about a week I will be posting on my website my new workshop schedule for the first half of 2016.
Happy Thanksgiving!